nemo's blog
Mon, 2014-01-06 15:53 — nemo
I'm posting this as a bit of a favour to the distros, since I've been asked by a couple of people already.
So, the main problem with the initial source release was that due to a bug in fpc, 32 bit builds using -O2 or higher were causing weird bugs. We'd encountered this before release in the Windows build, but due to a confusion of the cause, had thought it was due to changes in the Windows build env initially.
So:
0.9.20.1 - This merged the fix/workaround for the bug in fpc, and added some fixes for build problems encountered on OSX and some distro configs. As well as some minor things like a fix for a crasher with "shoppa map" lua + low quality land tex, and some minor optimisations.
0.9.20.2 - This rather hurridly replaced .1 due to rejecting trunk changes causing loss of a line in a file that was needed for the minor optimisations.
0.9.20.3 - This provides some more OSX changes, a small fix for a crasher for mask.png maps taller than 16384, and, more importantly, changes made by the Ubuntu porter trying to get Hedgewars to compile on ARM/Sparc.
0.9.20.4 - This drops some unneeded files from the package (saving 20MiB on the tarball), build system tweaks (including OSX) and includes more changes on the ARM/Sparc front, which was again the reason that triggered it.
0.9.20.5 - This final package appears to fix all the compilation problems on Ubuntu ARM/Sparc.
Tue, 2013-05-14 01:07 — nemo
Let's get some beta testing done!
Sooner we get this done, sooner we can get things released. Maybe in the next few days? *crosses fingers*
OSX Build
Aaand we finally have a Windows build too. Thanks to koda for providing both.
Windows
For Linux users of the Debian/Ubuntu bent, see:
Building on Linux for simple copy and paste build instructions that you can use to build any version of Hedgewars, including this beta (other distros are welcome to provide instructions too!).
For testing purposes, latest tip can be considered "beta" - no desyncing changes have been made.
The builds above are against 8e570c2cb059. So if you want to be certain, use: hg up -r 8e570c2cb059
Don't forget to file bugs!
FWIW, there are 2 bugs caused by the same small well-intentioned change that are now fixed. Can't aim saucer past horizontal (at least in Default) and infinite weapons like cake under some circumstances.
Those building against tip can pick this up, although they cannot play reliably against those on the beta builds after that (that is, stick to 8e570c2cb059 if you want to play people using the executables).
Sat, 2013-04-13 01:09 — nemo
That's right, we are not only working on fixing bugs or adding weapons like the Freezer.
Hedgewars's graphics continue to expand. What's new?

-Fruit Theme




-Hats, hats and more hats.




-New fort, SteelTower.




We are also working on the London and TV maps for the next release!

Stay tuned for future progress!
(post courtesy of Randi)
Mon, 2013-02-25 18:58 — nemo
I'd like to thank jaree for helping get this moving again.
Still needs balancing.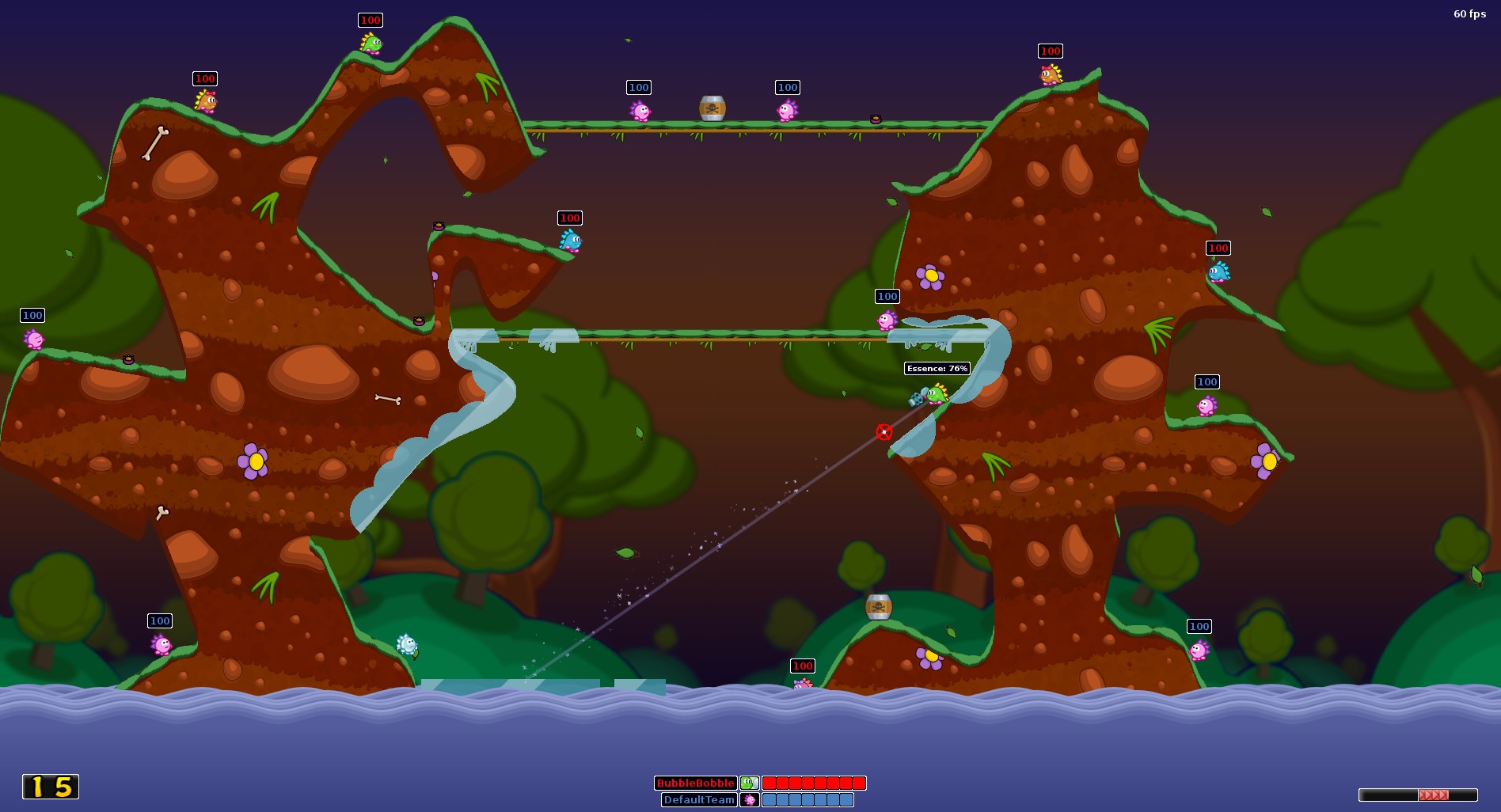 edit - updated the image again
Wed, 2012-10-31 22:01 — nemo
Happy Halloween everyone! AKA Hedgewars Birthday.
So it's been a while since the last release, so, quite a lot has accumulated.
Not everything that was planned has been completed, but hopefully future releases won't be a year apart so they should be added Soon®.
Right. On to the goodies.
* Hedgewars now has a campaign! It should hopefully be expanded and interface polished in future releases. This was a GSoC project.
* Another GSoC project, video recording! Use the 'r' key to start/stop recording video. Video management is on the frontpage.
* PNG screenshots, to make sharing screenshots more convenient.
* What would a release be without new weapons? The meat cleaver is the latest addition. The harder you throw it, the more damage it does. Cleavers also work well for climbing or blocking entrances.
* The AI is now a lot more evil. Set it to maximum level to get the full effect. It knows how to use cake, sniper rifle and kamikaze, as well as aiming shots to drown hedgehogs or do fall damage. It has also gotten more effective at a number of existing weapons, and can move around the map more intelligently.
* Drawn maps now have variable pen width, and an eraser tool. Note that the eraser does increase the size of the drawn map network traffic, so don't use it as a substitute for undo.
* Static maps no longer have size limits. Please use this sanely, since not everyone has a machine with 16 gigs of memory like you do.
* New missions such as portal and rope training.
* Customised team colours!