Sun, 2009-03-08 18:22 — Uriah

(Wrapup written by Nemo).
The first semi-final match between unC0Rr and Andrey was an excellent display of elegant Hedgewars. Andrey won the coin toss. Almost every single move resulted in a hedgehog knocked into the water with firepunch, whip and dynamite. Two wasted moves by Andrey, one due to a missed drill, resulted in unC0Rr winning with 2 hogs remaining.
The second match was considerably longer. Placements were more difficult, unC0Rr had a trapped hog and a case of the nerves, the toothbrushes of the bath theme made water knocks a tricky matter. Game dragged on with use of planes, dynamite and cake until it was down to 2 hedgehogs, unC0Rr at under 30, and Andrey at 100+. unC0Rr skipped for a while, Andrey built himself a little hideout. Finally unC0Rr attempted a teleport to above Andrey, and missed the attempted crate collection. He was saved by Andrey slipping up on roping amidst pixels. Rather than attempt a baseball bat, unC0Rr went with watermelon bomb, which dropped down through the pixels, leaving Andrey battered, but alive to finish off unC0Rr with a slow UFO.
The third match was a more typical one. Both send a hog into the water on their first turn, but Andrey picked up a crate with a watermelon while doing so. That, combined with a clever drop of a mine down a drill hole by unC0Rr that unfortunately did not reach Andrey, and a later missrope by unC0Rr due to a few pixels resulted in the final match going to Andrey by one hog.
The final matches between Mkk-Bote and Andrey were vigorous, but Andrey clearly had the upper hand. Once again, Andrey won the coin toss the begin the first match. A less than optimal dynamite placement by Andrey was not enough to compensate for some misropes and wasted turns by Mkk-Bote. Andrey finished the match with all 4 hogs remaining.
The second match was a little closer, Mkk-Bote had the start, and the terrain was low. A good start by Mkk-Bote using multiple switch hedgehogs to move his troops out of harm's way and a nice use of drill low and close to surface for a water knock was not enough to compensate for a later miss with baseball bat, and then a misplaced dynamite on that same 70 health hog. Andrey batted Mkk-Bote in from exactly the same position. A final cake sacrified one of Andrey's 2 remaining hogs to finish off Mkk-Bote and give Andrey the championship.
Overall, I greatly enjoyed the play in these finals, especially the first round of the semi-final which showed some good use of mines to open up girders and dynamite for knocking into water. Andrey's victory was not merely the luck of placement, but also excellent strategy and good use of his weapons with only a few mistakes that were not serious enough to prevent a final victory.
Thu, 2009-03-05 13:02 — Uriah
I was bored,

Using 30 seconds of my time in 3dsmax, and augmented reality software, I came up with this:





The video is a fraps recording of my webcam, nothing more, I can rotate and play with the piece of paper and see the hedgehog move in real time, lots of fun!

Sun, 2009-03-01 18:01 — Uriah
Well we've finished up round 2.

Congratulations to Kaan, MkkBote, thomas, unC0Rr and Andrey for making it through.
It's time for round 3 to begin.

You have from monday the 2nd of march through until sunday the 8th to play round three. The tournament ladder has been updated (clear your cache if you don't see it) and as always I don't mind people beginning their matches early and playing today.

Good luck to everyone :)

Sun, 2009-03-01 00:18 — Uriah
I wanted to show you the ammo menu as it currently stands
You'll notice some new items, the icons are temporary, but maybe you can guess what they do?
See that
here
I've also included another shaky camera video to show off a test map I made quickly to test a new mapping feature. Certain parts of terrain can be made to be indestructable, destructable, or to have no collisions.
Sat, 2009-02-21 15:52 — Uriah
Hi there guys,
First of all let me update you on the tournament, the first round is over. If you didn't get a chance to play it's your own fault and winners have been chosen based on who we felt made the most effort to get a game going. That said, this only occured a couple of times, so I'm proud of you!
The second round starts tomorrow on Sunday the 22nd of Feb, and runs through until Saturday 28th of Feb. I have no problem with anyone starting early and playing their games today if they wish.
I've updated the ladder to reflect who is playing who in the second round, you can see the updated ladder by hitting the tournament button on the right panel of the main page, if you don't see round 2 you might need to clear your cache and try again.





Now! On to a progress report. 0.9.10 isn't too far away, but so far what was planned to be a small update containing a couple of new features has turned into a bit of a mega update. So let's tell you about some of what we've been doing.
First of all we have many many more options for generating random maps.
These include selecting a filter for generating maps of different types, and the ability to add a border to a map. We even have cavern maps now!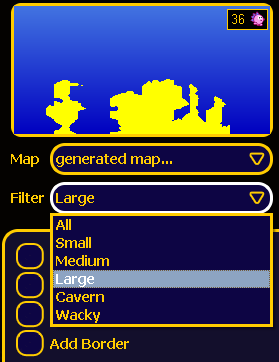 Along side these new map generation options, we've got a number of new themes to generate them with. None of these are completely finished yet, but I've decided to show off some screenshots anyway.
First we have a halloween theme, inspired by Tim Burton -
Screenshot
Next up is a Castle theme, with a hail of arrows raining down on our hogs -
Screenshot
Feeling a little peckish, the Hogs have decided to invade the cheese cupboard -
screenshot
On top of this I've also updated existing themes, cleaned up graphics and added new ones.
See them here:
Nature
City
Island
And we have a number of lovely new maps, I've decided to preview one here -
Screenshot
Aside from this, you should expect some new features, lots of new hats, improved server architecture, bug fixes, "despeckling" code that removes stray pixels to smooth the playing field, badger hax, and more