Dynamite
Sat, 2013-06-08 15:19 — Star and Moon

You're lazy and crave big explosions? Hmm … there
got
to be a weapon for you … and here it is!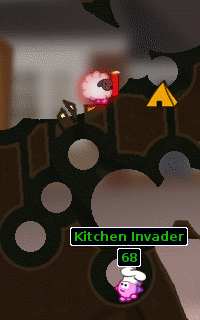 The
dynamite
is one of the basic weapons in Hedgewars. It could be called a super weapon, due to it's huge reputation for death. It is also one of the simplest weapons to use. You just drop it anywhere, and retreat to a safe distance.
Damage: 75

Timer: 5s
Charge to shoot: No
Affected by wind: No
Can be used in mid-air
Ends turn: Yes
Retreat time: 5s
Crate type: Weapon
Pressing the Attack key (default: SPACE) will drop the dynamite. Then
run away as fast as you can!

The dynamite is most effective on groups of hedgehogs
The dynamite was one of the first weapons to be added to Hedgewars