The aim of this thread is to aid people in creating graphics that fit the Hedgewars graphics style.
For a while now I've been receiving graphics submissions from people that, whilst well drawn, simply do not fit the game.
One of my aims as graphics designer on the project is to make sure that the entire game adheres to one particular style.
Graphics that do not match this still will never be included in Hedgewars, regardless of how good they are.
So let's start by talking about what defines the Hedgewars style graphics.
- Bold Outlines (usually 2-4px in width)
- Cartoon style shading
- No Gradients on foreground objects
- Bold Colours
- Shading depth is usually 2-4 colours deep
- Well defined shapes
Let's take a look at the same object drawn in two different styles.
A.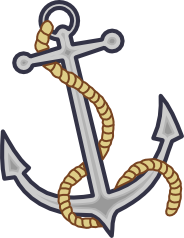 B.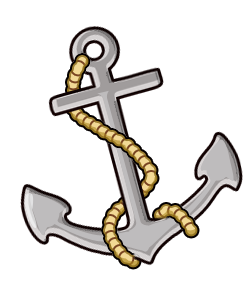 Anchor A does not fit the Hedgewars graphics style
Anchor B on the right does.
Anchor A is shaded with a gradient, whilst it's only made up of white + dark grey, shading blends between those two colours as it closes in on the center of the object. This means there are actually many different shades of grey (i.e. different colours) between the outside of the anchor and the center. As mentioned above, the hedgewars shading style is made up of 2-4 solid colours. As you can see on anchor B, which contains 4 different shades of grey to achieve the same effect.
The shape of Anchor A is very clear cut and perfect, Anchor B is slightly more organic, it has lots of smooth curves and a chunky shape that adds to the cartoon look.
Let's look at another graphic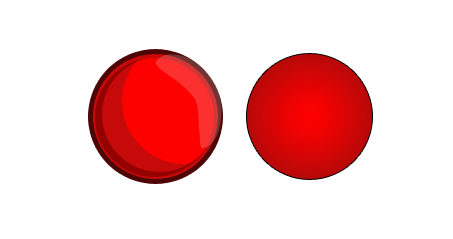 Here I've drawn a quick red glass ball in both styles.
It should be quite obvious, from the style of shading and outline which fits the Hedgewars style most.
All lines, even those made by shades of colour inside an object are clear cut and sharp.
Next let's talk about small details, the graphics in Hedgewars rarely contain small details, if you're drawing something in single pixels, it's probably not going to fit.
I'm going to take Dawidope's volcano grave as an example on this one and compare it to one of my own.

Again it should be obvious which fits the rest of the graphics in the game. Whilst Dawidope's graphic is nice, it contains a lot of single pixel details, much of it's definition is single pixel, pixels are squares, and so single pixel lines do not look smooth or soft. And do not fit the Hedgewars style.
I'm running out of time writing this post, but I think I'm going to post it anyway and add more to it later.
So expect some coverage on backdrops, colours, outlines and more.
One way to test your graphics is to import them into another theme or map, if they look completely out of place, chances are your interpretation of the graphics style isn't working out.
For example, I could take a palm tree and put it on the city map, whilst a palm tree on that map would look strange, it would still look as if it were part of the same game.
You should be able to do this with all of your graphics.