We receive many requests on theme creating topic. So, I'll try to describe this process.
Land generator theme in Hedgewars consists of many files: LandTex.png, Sky.png, horizont.png, Border.png, Flake.png and theme.cfg.
Let's have a look at 'nature' theme:
LandTex.png

is an image of 640x480 size. Actually, you may choose any dimensions you like when creating your own theme. The LandTex picture is tiled over generated landscape, so it should have no visible joints when being tiled for better looking.

Sky.png

is the picture of the sky, it should be 1024 px high, any width. The color of the sky above clouds is described in

theme.cfg

. 'avematan' theme has 64x1024

Sky.png

, which is actually a gradient from dark-blue bottom to blue top.

Sky.png

is tiled horizontally.

horizont.png

is an image, drawn behind the landscape in front of the sky. It could be of any size.

horizont.png

is tiled horizontally, just under the water line.

Border.png

is the image of the border of landscape. It could be of any width, 32 px height. Top half of the picture is the border of the top lanscape edges, and the bottom half is the border of bottom edges.

Flake.png

is the image of those objects flying behind map.
Let's look at the screenshot: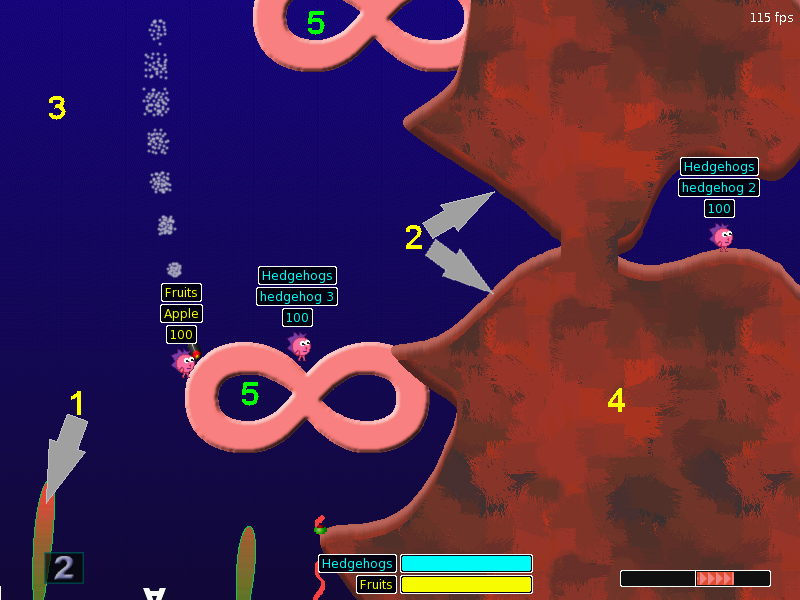 '1' points to horizont.png
'2' shows where the Border.png is drawn
'3' is over Sky.png
'4' is painted on LandTex.png
'5' shows so-called 'map objects'.
What are 'map objects'? To understand well, we should look into theme.cfg and see, what's there.

The first line of theme.cfg is the color value of landscape hole border color after explosion. It has format "

R G B

", where R, G and B are red, green and blue color components, each has value from 0 to 255;
The next line describes sky color in the same format;
Third line is soundtrack name, you may leave this line empty;
Fourth line is the number of clouds to fly in the sky;
5th line is the number of map objects included in this theme
There could be no map objects, but theme is quite sad without them.
'nature'
theme has 4 map objects. Next lines describe map objects, two lines per object. So, let's look at these lines:
plant2
0 85 25 25 2 0 0 170 70 50 70 120 40
The first line is the name of the map object picture. The second describes the object: '0 85 25 25' is the rectangle of picture that should be behind the landscape, hidden from view (it has "
left top width heigth
" format). '2' is the number of rectangles that should be visible, '0 0 170 70' and '50 70 120 40' are visible rectangles described for this object. Let's see: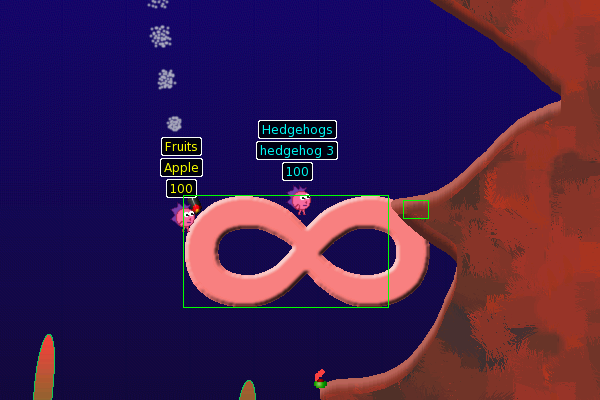 Green rectangles are rectangles described for 'inf' map object. Left rectangle is guaranteed to be visible, and the right - to be invisible when the land is generated.
The next line contains '0' - the number of special objects - that are painted on top of landscape. The example could be found in theme 'wood' (line '5' there means the maximum number of objects placed on the land).
Last two lines are: number of flakes and their properties in format 'number_of_frames frame_duration rotation_velocity falling_speed'
So, that's all! Enjoy creating new themes!