So, the SVN build of hedgewars now has flag support. You will be able to customize your lifebars with flags, on a per team basis.
This means your team will be more unique than ever!
Here's an example of flags in game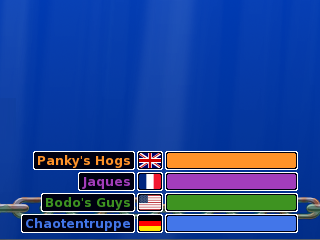 Now, the purpose of this thread is to build up the flag collection, I'm hoping to get at least 60 unique flags in the next version. The vast majority of these will be drawn by myself and other established contributors.
However, we'd like to invite you to draw your own. We already have 200 country flags and will not be accepting more at this time.
A warning before you consider submitting a flag:
Not all flags will be accepted, no matter how hard you work on them. If the flag doesn't pass my personal quality standards, or doesn't fit the "Hedgewars graphics style" it won't be included in the official release. I would suggest that anyone who would be particularly heartbroken about their flag not being officially included should probably not submit one. I'm very picky and have high standards. That said - I will be offering aid and advice to anyone who's interested in taking part!
Now that's out of the way, how do flags in Hedgewars work?
All you need to do is draw a small 22x15 pixel image.
I've included a blank flag for you to draw over here:


More info on the dev wiki here!
Have fun!