sheepluva's blog
Thu, 2011-09-29 15:27 — sheepluva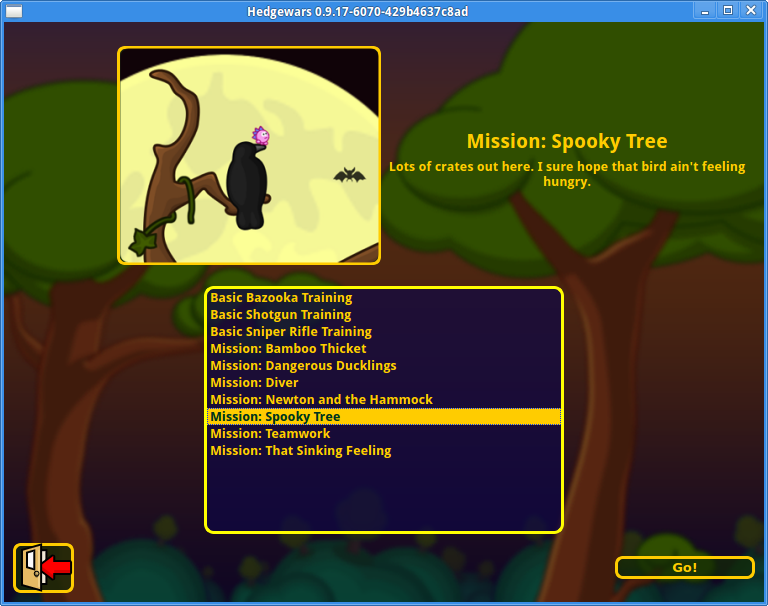 In the next release of Hedgewars the Training/Mission screen(s) will get a new look so that they don't look so terribly empty, boring and quickly/cheaply done anymore.
Sun, 2011-01-30 22:05 — sheepluva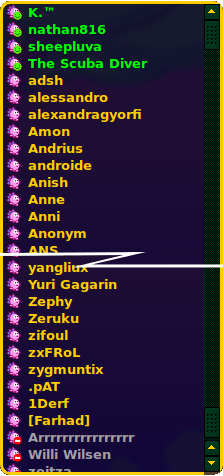 I've been playing around with nick sorting recently.
This is the current result.
(It already is in the Hedgewars code repository and will be in the next version of Hedgewars, if nobody changes it :P)
case-insensitive

, means: A-Z won't go above a-z anymore.

special characters

are always

below

A-z

friends

are always

on top

of the list

ignored

nicks are always

on the bottom
Share your opinion in the comments below

Your favorite part-time maniac,
sheepluva
PS:
For the screenshot I RANDOMLY added nicks as friends or ignored them, on my testing account.
I do not even know those people (except myself, maybe)!
Sat, 2011-01-29 01:45 — sheepluva
I think he did a good job seeing it's his first Hedgewars video ever and that he only had limited time :D
(Also he got tricked into making it... muwahahah xD)

Enjoy! :D


Tue, 2010-12-28 08:35 — sheepluva
:: 'cuz our hedgehogs don't hibernate ::

Winter has never looked this cool

There's a

new theme

to chill in:

Christmas

!

Let it snow

! Watch the ground on maps using the Christmas and Snow themes, because the falling snow may change it to your advantage or disadvantage.

New weapons
Are your enemies busy digging for oh-so-tasty earthworms instead of facing combat? Time to send a

Drill Strike

after them!
You want to push somebody from distance? Weapons are too expensive for you? You like to play in dirt or snow? A

Mud Ball

* should do the trick!

(*wind effected; not recommended to be used as food replacement)

Optional Gameplay modes

Capture the Flag

! Bring your enemy's flag to your home while protecting your own!

No Jumping

! The temporary loss of floor contact makes you feel insecure? Then play without jumping and see new strategies evolve!

Random Weapon

! You want to test your luck and skill? Then let the game give you and your enemies a random weapon each turn!

Draw your own maps

YES, you read that right! Now you can

create and save your own hand-drawn maps

and play them

on any theme you want

and

with who you want

!

Note: Please do not use maps with motives not suitable for children on the official server, thanks!



Sun, 2010-11-14 07:23 — sheepluva
0.9.14.1 released. All users of 0.9.14 please upgrade
The following were dropped from 0.9.14 in the 0.9.14.1 bugfix release to due bugs/user complaints. They may reappear in future releases.

Clicking on preview while on a map now switches to random terrain again. This fixes a desync.
The linking of scheme/ammo checkbox has been removed. This fixes a desync.
Weapon offsets were removed. Weapons now start from centre of hedgehog as in 0.9.13 again.
Random mines are back to 0 to 3 seconds.
Resurrector now resurrects multiple graves again.
Place hedgehogs mode starts with teleport. King mode still requires selecting teleport or skip turn.
I'm honored and happy to announce that the new version (0.9.14) of Hedgewars is now available for download in the Download section! :D
(It's possible that not all versions for all supported operating systems are available for download yet, so be patient!)
::Highlights::
New devastating weapons!
Show no mercy and let your hedgehog army fry, smash, poison and destroy your enemies like never before!
Not only will the
Flamethrower
,
Hammer
,
Sticky Mines
and
Old Limburger
take your sadism to a new level, they will also let you forge new strategies for giving your challenger a hard time.
And if you are willing to sacrifice a hog for a good cause then you'll truly enjoy to wreak havoc behind enemy lines using the
Piano Strike
!
New powerful utilities!
You are lazy AND smart? You'll love the
Portal Gun
! Move yourself, hogs and things from A to B etc. and back! Be daring, be creative, be nasty! :D