Tue, 2012-10-23 14:47 — Koda
You read it right! The rumours were true! We can now safely announce a release plan!

0.9.18 is on its way, just in time for Hedgewars birthday, the 31st of October.
We've prepared some builds for you so that you can betatest the next release of Hedgewars and report any bugs you might find! In the rare case you find any, please add them here: http://code.google.com/p/hedgewars/issues/list
Let's see who's the first player to get past the 100th issue (but please check for duplicates before posting)
Third update: Congrats to vos for making it!

By the way, if you have any translation update now it would be a nice time to submit it! Also, if you ever contributed code for Hedgewars and for some reason you haven't been added to the credits yet, get in touch with us immediately!!!
Update: The Windows build is ready!
http://download.gna.org/hedgewars/hedgewars-0.9.18-7740-4ba77e6178cd.zip
Second update: The OS X build is ready!
http://download.gna.org/hedgewars/Hedgewars-0.9.18-7676-a25e943dd4b0.tar.bz2
The beta builds are being baked right now, and they might be hot for a while, we'll publish them very soon (tm)
Sat, 2012-09-22 18:21 — Star and Moon
Happy 50th Comic Strip Guys!

You can read previous comics here or here.
For the sake of not enveloping the news page, a PAotH update will be posted for every five strips rather than each new one individually.
Fri, 2012-09-21 20:51 — Medo42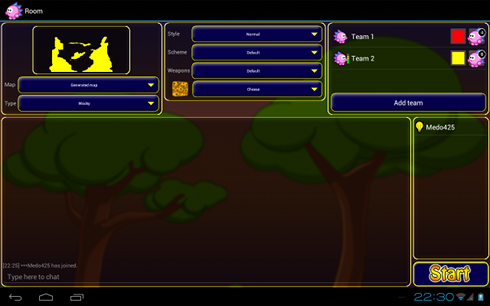 Hello everyone. Now that the Summer of Code has been over for a while, it's time to finally give you the promised demo of my Android netplay project.
The demo allows you to play Hedgewars online on your Android phone/tablet, both with people running the same demo or a current Win/Linux/Mac nightly build. Please keep in mind that new nightlies may not be compatible with this demo, so I have put the current Windows and Mac builds up for download as well. This allows you to test Hedgeroid cross-platform play against a compatible version.
The size is way up from the alpha release on the market, because this demo includes all the game data needed for online games. I only left out the music, because that would have blown it up to twice that size. When you first start the game, it will copy all the assets to SD card as well, which can take a while. This is not an ideal state of affairs, but it should be good enough for the purpose of this demo.
As with the last demo, you will have to uninstall the market version before installing this one, because it is not signed with Xeli's key. Also as last time, this demo comes with no warranty, so if your phone melts as a result of running it, please don't blame me - it's my first Android project. That said, my tablet and phone are still very much working, and the app doesn't ask for the DEVICE_MELTDOWN permission anyway.
Downloads:
Hedgeroid netplay demo (58.6 MiB)
Compatible windows nightly (122 MiB)
Compatible OS X nightly (170 MiB)
Thu, 2012-09-20 11:50 — Star and Moon
Well, this is a surprise. My hit PAotH comics are now going to be posted on the Front Page!
For those of you who don't know: PAotH is about hedgehog astronauts seeking to explore the cosmos, a goal constantly hindered by their incompetent staff. Moon, the head of the Planetary Association of the Hedgehogs (PAotH) and the carefree, clueless astronaut-in-training Star are forced to endure a series of outlandish adventures, each less plausible than the last.
You can read all the comics here or here.
(Oh, and for those of you that are curious, new comics should be coming this weekend.)
Sun, 2012-08-26 00:35 — Koda
As GSoC admin I get to write a summary of the Google Summer of Code, praise the students' works and give confetti away at the end of the program.
However for me this is the most difficult part of the job, I am at a loss for words for what the students have carried through this summer. We started really big when Google assigned even more slots than we could handle and, despite our best intentions, we settled with FIVE brilliant projects!
We had a really hard time picking the best(est) projects from some very good ideas that were submitted and among them we had some doubts about timing/deliverable feasibility. BUT, we accepted the risk and provided safe snorkeling masks and air tubes before the students dived in the code.
Four projects were successfully completed and it's showcase time!
- Android netplay
by Simeon "medo42" Maxein, mentored by xeli
Lots of GUI and API design involved with code portability issues and many several days of protocol analysis, this will help unify our configuration handling across our many platforms;
- A new campaign
by Szabolcs "belphagorr" Orbàn, mentored by mikade
an essential feature to have, coding skills as well as storyline writedown, maybe it's the last milestone before 1.0;
- Video Output Tool
by Stepan "Stepan777" Podoskin, mentored by unC0Rr
replay showcasting, with a neat Youtube uploader. A lot of new dependencies added by it will be interesting to see how the community uses this;
- WebGL port
by Meng "xymeng" Xiangyun, mentored by nemo
the Pandora's Box of coding, with an eyecandy demo.