Thu, 2012-07-26 22:41 — Medo42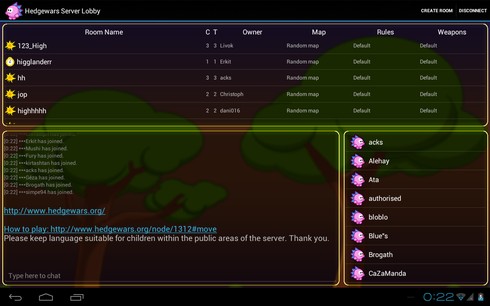 Hi everyone.
It has been quiet for a long time now, while I withdrew into a deep and mysterious cave to learn the mysteries of Android development. Now I have finally returned (and shaved), and can show you the first results of my project that are actually interesting to all you Android users.
This .apk (Android app package) is a snapshot of the current work and allows you to connect to the lobby to chat, and to get information about players and rooms. There have also been a few improvements to existing parts of Hedgeroid. For example, the main menu is a bit prettier, and the initial moving of the game assets to the SD card is now a lot faster. You cannot enter rooms or join games yet - that will be the work for the next weeks, but it is mostly user interface work now.
To install the app, you have to uninstall the Alpha from the market first, and you have to allow installing apps that are not from the market. Select Network Game from the menu, enter your username (and your password if needed) and test away.
You will stay connected if you leave the lobby screen via the home button or switch to a different task (e.g. to read an SMS). To disconnect, either use the back button or the "Disconnect" option from the menu. I plan to add an indicator that will remind you the connection is still running, though it should not eat much battery, and turning your screen off for a while should disconnect you as well.
I'm looking forward to your feedback. Have fun!
Sun, 2012-07-08 16:40 — belphegorr
Hi everyone!
Another milestone has been reached, so it's time for an update.
About half of the campaign is finished (with small modifications taking place continuously). The campaign (which currently consists of 4 missions) can be tried out via a clone set up at http://code.google.com/r/szabibibi-campaign/.
It is aimed at newcomers (though it might be a bit challenging for them), so veterans may find it too easy...
As promised, decisions taken and performance on certain missions affects the story/game mechanics.
I hope you'll like it!
Wed, 2012-06-27 20:56 — Medo42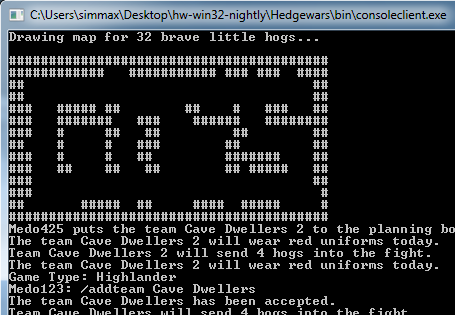 It has been a while again since the last blog post, and there has been a lot of progress. Almost everything in the new frontend library works now, and to test the library and how much it will simplify creating a new frontend, I quickly hacked together a "toy" frontend running in the Windows console.
It's not full-featured, but you can chat, join a room, add teams, and then play. You will even see a small ascii-art preview of the generated map. You can't create rooms though.
The frontend is Windows-only at the moment (wine does not seem to like it much, either), and the frontend+library are hardly tested at all. In other words, I take no responsibility if you decide to try it out yourself.
If that does not scare you off, you can download the console frontend here and extract all files it into the "bin" directory of a nightly build. Start the consoleclient.exe and enter your username. You will be connected to the hedgewars server, and the available commands will be explained.
To add a team to a room with the /addteam command, there has to be a file with the name .hwt in the bin directory. The zip file already includes the team "Cave Dwellers", but you can copy other team files from your hedgewars user directory.
Due to the (cheap) way this frontend is written, you don't have much time to type your commands. Once you start pressing keys, a prompt with your nickname appears, and the frontend stops reacting to anything but your input until you press enter. The server does not like that though, and if it has to wait too long for a reply it will disconnect you.
It is probably helpful to start the normal frontend as well, so you can see what you are doing, and to create a room to test in.
Wed, 2012-06-27 00:02 — Stepik
Hi all! I haven't written in my blog for a long time, so you maybe forgot that I am responsible for implementing video recording in Hedgewars.
Screen capture software usually skips frames if your computer is not fast enough to record & encode video in real-time. But video recording in Hedgewars is not real-time; instead it first records game demo & camera positions and then starts video encoding in background using as much time as necessary. The result is that you can easily record high-resolution videos.
To record video you just need to press 'R' during a game. You will see a red blinking circle in top left of the screen indicating that you are recording video right now. After all interesting events have passed press 'R' again and recording will stop. Then actual video encoding will automatically starts in background.
Here is video showing how it all works:
And here is screenshot of the page with list of recorded videos and options for video recording (click to enlarge):
Tue, 2012-06-26 13:21 — WolfgangSt
Hi everyone!
Time for some updates. Implementing the actual atlas took quite a little longer than a week, which however, was to be expected. After all it was a rather complex change. During the last two weeks the atlas code has gone through quite some changes. As you may recall in an earlier A&O I described, how I seperated texture internals to sprites and textures.

Atlas after adding 14 sprites

Atlas after adding 7 sprites
The next logical step was to pack several sprites into a shared texture like you can see in the following images:
The whole process works adaptive, meaning one sprite can be added after another. The packer will try to insert the requested sprite as good as it can into the free region(s).
However at some point new sprites wont fit in anymore. As you can see the atlas is already quite full after having added 13 sprites to it.