Sun, 2009-03-01 00:18 — Uriah
I wanted to show you the ammo menu as it currently stands
You'll notice some new items, the icons are temporary, but maybe you can guess what they do?
See that
here
I've also included another shaky camera video to show off a test map I made quickly to test a new mapping feature. Certain parts of terrain can be made to be indestructable, destructable, or to have no collisions.
Sat, 2009-02-21 15:52 — Uriah
Hi there guys,
First of all let me update you on the tournament, the first round is over. If you didn't get a chance to play it's your own fault and winners have been chosen based on who we felt made the most effort to get a game going. That said, this only occured a couple of times, so I'm proud of you!
The second round starts tomorrow on Sunday the 22nd of Feb, and runs through until Saturday 28th of Feb. I have no problem with anyone starting early and playing their games today if they wish.
I've updated the ladder to reflect who is playing who in the second round, you can see the updated ladder by hitting the tournament button on the right panel of the main page, if you don't see round 2 you might need to clear your cache and try again.





Now! On to a progress report. 0.9.10 isn't too far away, but so far what was planned to be a small update containing a couple of new features has turned into a bit of a mega update. So let's tell you about some of what we've been doing.
First of all we have many many more options for generating random maps.
These include selecting a filter for generating maps of different types, and the ability to add a border to a map. We even have cavern maps now!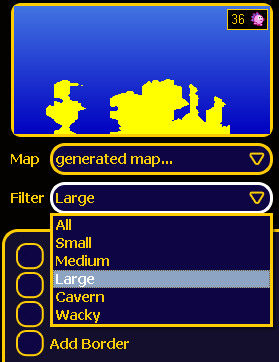 Along side these new map generation options, we've got a number of new themes to generate them with. None of these are completely finished yet, but I've decided to show off some screenshots anyway.
First we have a halloween theme, inspired by Tim Burton -
Screenshot
Next up is a Castle theme, with a hail of arrows raining down on our hogs -
Screenshot
Feeling a little peckish, the Hogs have decided to invade the cheese cupboard -
screenshot
On top of this I've also updated existing themes, cleaned up graphics and added new ones.
See them here:
Nature
City
Island
And we have a number of lovely new maps, I've decided to preview one here -
Screenshot
Aside from this, you should expect some new features, lots of new hats, improved server architecture, bug fixes, "despeckling" code that removes stray pixels to smooth the playing field, badger hax, and more
Fri, 2009-02-20 14:30 — Uriah
Have a low spec machine?
A laptop with crappy on board graphics?
An intel card that's turning the entire terrain white?
There's hope!
unC0Rr and Nemo have been working hard to make Hedgewars more accessible to everyone in 0.9.10. unC0Rr has rewritten the way land is generated to increase speed and hopefully fix that annoying bug with intel cards that renders the entire terrain white (if anyone with that problem would like to test this, let us know).
Meanwhile Nemo has been working on graphics options that will allow you to turn off various graphics options to trade graphics for speed. We've seen an increase from 280fps to 460fps on a high spec machine, running on low graphics settings. Whilst Nemos old laptop that was pretty much incapable of playing Hedgewars at any resolution now gets a solid FPS at reasonable res.
Screenshot of the game on low graphics settings
here
Wed, 2009-02-18 23:08 — Uriah
There have been a few minor site updates recently.
The best thing to do is probably clear your cache and reload the page, the easiest way to do this in most browsers is to hold ctrl and hit f5 to refresh.
You'll see new quick link buttons on the main page
You can now send PMs in the forums
Decorative Hedgehogs will be sitting on the top right of the site (these change each time you refresh)
The site now uses shadowbox to display large images, check out the tournament button on the main page
FAQ updated
Live chat that takes you to our IRC channel, no java or flash required
Various other small updates
I'll continue working on this
Wed, 2009-02-18 22:35 — Uriah
So I was thinking, besides an in game hat to call their own,
what else could we give the victor of the current tournament..
Then I thought.
What about a Tshirt!
What do you think?
Should I do it?