Mon, 2009-01-19 18:32 — Uriah
That's right, it's that time again!
Another new Hedgewars release, this one is exciting with some of the funniest new weaponry yet.
Make sure you upgrade your Hedgewars client as you'll only be able to see those with the same version on the Hedgewars server!
So without further ado, here's the changelog!
- Voicepacks, customize your teams voice!
- Nice new visual statistics page after the match
- Precise aiming, hold shift to aim more accurately
- Improved lobby chat
- Remote Control Plane weapon
- A couple of additions to customization content, (i.e. grave / fort / hat content)
- Additional sound effects
- Various tweaks and bug fixes
I'm going to write a little bit about the new RC plane weapon, as I think it deserves it's own little mention. Hit space to fire the weapon, use your arrow keys to control it's flight, whilst flying press the space bar again to drop up to 3 missiles! Once you're out of missiles, crash the plane into an unsuspecting hedgehog to cause additional devistation..
Whilst flying, press the enter key for a suprise :)
Head over to the downloage page to grab it now!
Tell your friends!


See you on the server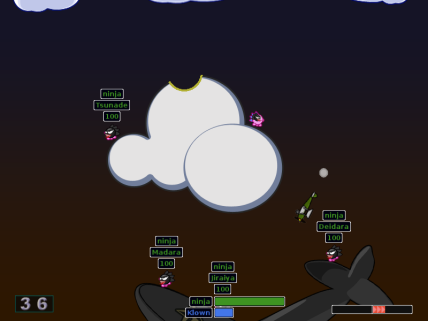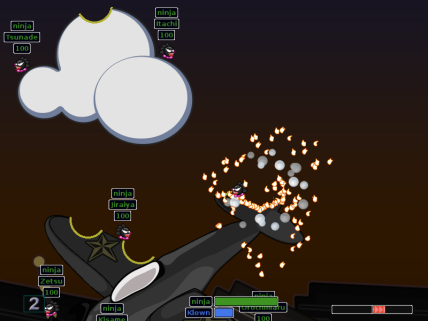 Sat, 2009-01-17 00:16 — Uriah
Chances are this wont be in the next update, but I thought you might like to see it anyway.
Graphics are temporary and it's unfinished.



Wed, 2009-01-14 21:53 — Uriah
Hi guys,

I just wanted to let the translators know that we're going to be releasing an update very very soon. It's not a big one, mostly bug fixes. But it does contain 2 great new features.

One being voice packs! Yup you can finally choose how your team sounds!
Second is precise aiming, whilst holding shift your target moves extra slow, allowing you to be 100% accurate!

We need your help updating the translations for this release.
So get translating! :)

Sun, 2009-01-11 19:18 — Uriah
We need your help!
We want the Hedgewars community to be as big and as fun as possible.
As a community project, the larger the community becomes the higher the quality of the game will be! And we need you to help us spread the word, get players playing and enjoying the game!
Post about us on your favorite forum
Submit us to your favorite news sites
Tell your friends!
Play us in your schools
Post us on youtube
Mention us on myspace
Create pages on wikipedia
Join the hedgewars group on facebook
Put us in your signatures
Help us grow!

Tue, 2009-01-06 19:12 — Uriah
Well folks, 0.9.8 is finally here,
You can go and grab it on the download page
here
you can find the changelog below :D
Massive number of network play bugfixes
Now spectating works for those who joined after game start
New Drill rocket weapon
New Napalm strike weapon
New Super awesome super weapon
Land can now be set to be indestructable
Six brand new maps using new themes
Lots of new forts
Hellish hand grenade reworked
Brand new server lobby
Lobby chat
Spread of Melon Bomb fragments improved
Blowtorch bug fixes and improvements
Fixed a crash bug that occured when the engine had no room to place all Hedgehogs
More delay after jump, less delay after small fall for hedgehog
Limit max chat message length to 300 characters
Ammo menu no longer closes when user clicks on not yet available weapon
Ammo scheme bug fixes
Fire effect improved
Increased version number
We'd like to see all of you on the brand new servers, chatting and becoming part of the Hedgewars community!
We're going to need your support to raise the popularity of Hedgewars, tell your friends, tell your mother! write to news sites, post on forums, post on blogs, post on youtube, let the world know about us!
Enjoy 0.9.8!